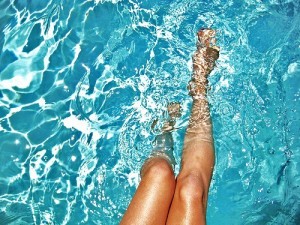 Summer, fitness, exercise and a healthy diet all go together. When you think of summer, you normally think of more revealing clothing, all the fresh fruits and vegetables and the fun summer activities. Summer also is the time people normally have family or class reunions and there are a rush of June brides and weddings. You still have time to look and feel your best and get the most summer fun if you dedicate yourself to a healthier lifestyle right now. It's never too late to see improvement.
Take advantage of the warm weather to start becoming more active.
Warmer weather can be a huge advantage if you're starting a workout plan. It's far more pleasant working out when the weather cooperates so take advantage of it and walk to the store, jog around the block or get out your bike and ride a bit. You can do simple things, such as park further away from the front door in a parking lot and enjoy the walk to the store. Every little bit helps and can make you fitter.
Enjoy the delicious bounty of the season.
You'll cut your grocery bill and improve your health when you take advantage of all the fresh fruits and vegetables available. While not everyone has access to a roadside stand with produce grown by a local farmer or gardener, you'll find in season fruits and vegetables are cheaper in the grocery, making healthier eating a real budget saver. Plan your meals around the fresh produce and buy some extra to freeze. You'll be healthier for it.
Start a program of regular exercise if you haven't already done that.
No matter how fit you are or are not, you'll benefit from the help of a personal trainer, particularly if you've never exercised before or had problems sticking with a fitness program. You will see results quickly when you workout with a trainer and feel a renewed energy from the exercise program. You'll also learn how to make wiser food choices that can result in shedding extra pounds and improving your overall health.
You'll burn off the hormones created by stress and feel fantastic after working out.
You'll love how you look and have improved self-esteem after just a few weeks, giving you even more confidence to participate in summer fun.
Don't forget your sunblock if you're going out for the day. While you need the vitamin D provided by the suns rays, too much is harmful. Before you spend a whole day outside in the sun, make sure you slather on plenty of sunscreen.
Gardening and other lawn care activities can burn up the calories too. Track those and add the calories burned to your weekly workout. You'll find doing yard work not only is easier the fitter you are, but helps you get into even better shape.